CUSTOM YOUR PERSONALIZED LOGO NEON

There have 3 style client's logo neon signs case only for you reference, Not for sale! Tell us your needs, Let's design your style.
1.UV Printing:UV printing process make your brand LOGO more special! More and more customers like this diversified design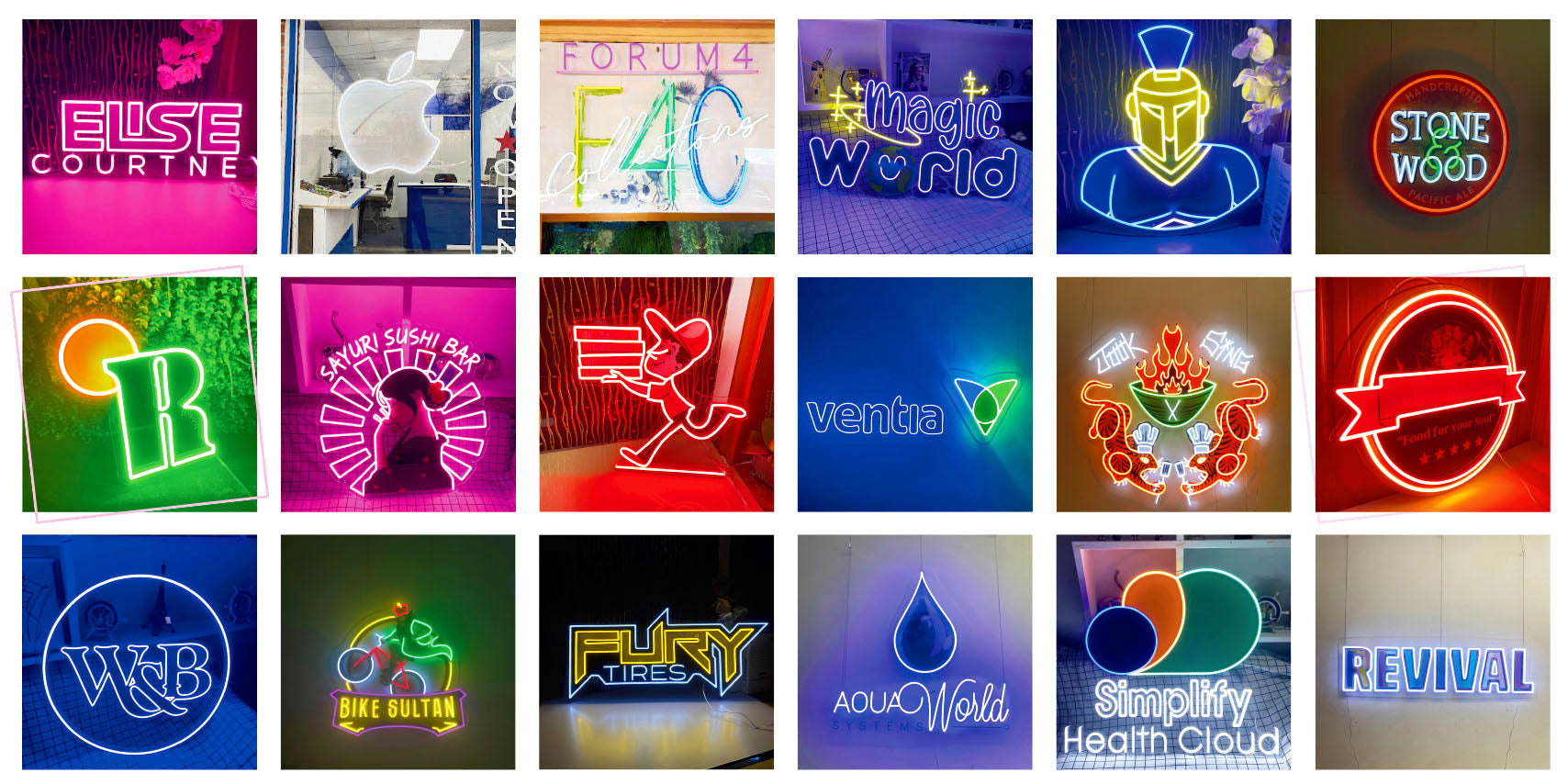 2.Multiple color combination design: Different colors for each letter or multiple letters design your personalized logo
3. Single colour design: Single colour is also the best selling colour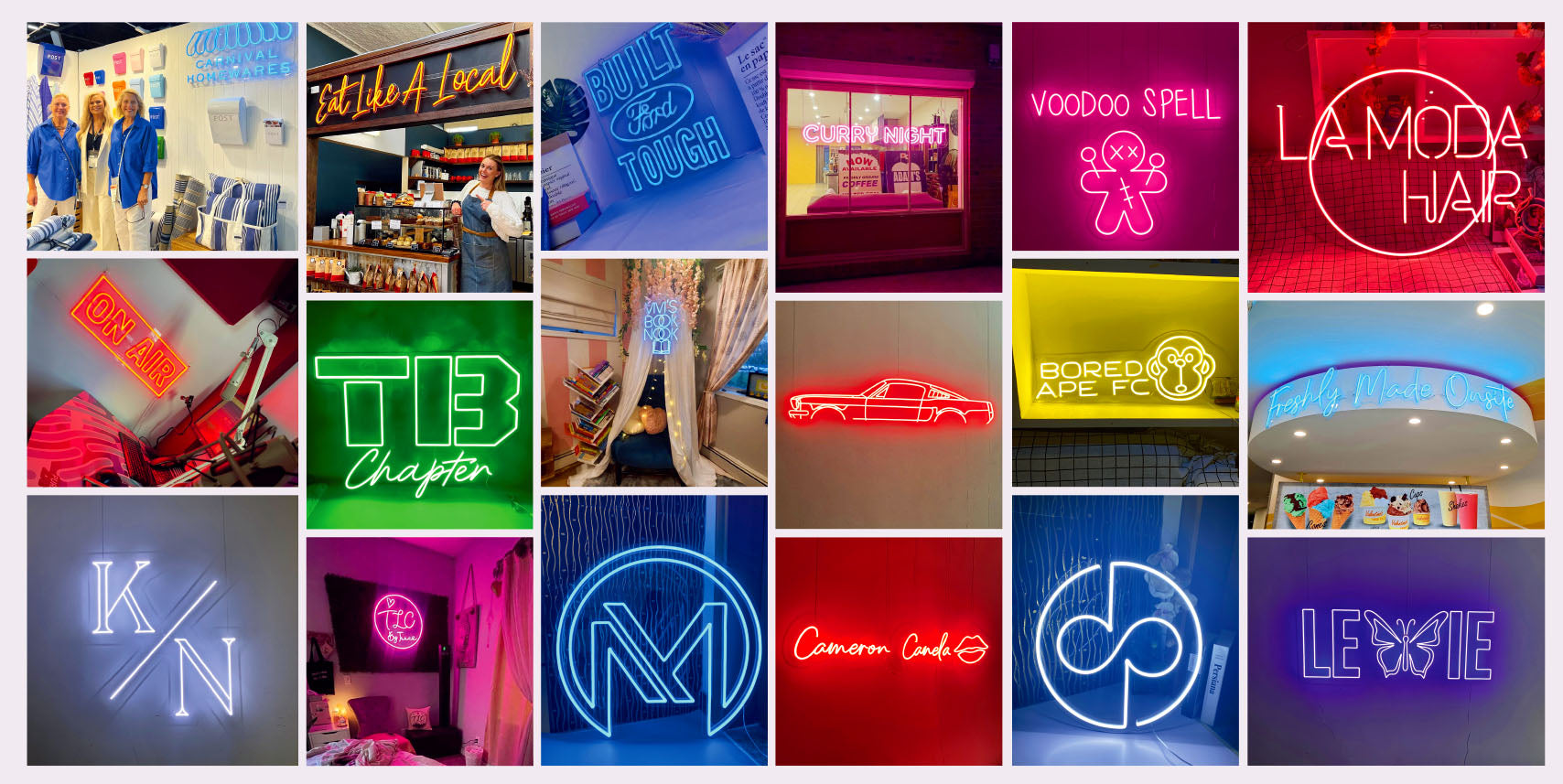 HOW IT WORKS 
Need a Custom Text Neon Sign? 
CUSTOM NEON ONLINE

Need to turn your logo/artwork into a neon sign? 

Stand out from your competitors with an eye-catching custom business neon sign. Whether you need a business name, logo, tagline, or mascot we have you covered. Simply upload your design artwork or idea, and the NeonPartys team will provide you with a free mock-up design and quote. 
The history of a commercial neon sign
Everyone adores the idea of employing neon signs at home and in commercial spaces. Not only are they colourful, cool, and exciting, but they also serve several outlets and purposes. Moreover, neon signs are pretty famous when it comes to interior design and office settings today. On the other hand, it is quite important to the journey they have travelled to get the much-needed recognition. Dating back to 1675, they have witnessed a lot of transitions.
Read More
The early history
Have you ever heard about the technology that got neon lights started? Well, it all began in 1675. This was an age before electricity was introduced. Everything changed when the French astronomer noticed a meagre glow of light emitting from mercury through a barometer tube. Even though the glow could take place when the tube was shaken continuously because of the static electricity, the entire phenomenon wasn't deciphered or understood back in the day.
Since it was far from everyone's understanding, the science behind it was reinvigorated and investigated. And, years after its investigation, scientists gathered a lot of research pieces into what goes behind these forms and kinds of lighting.
In particular, neon signs are instead descended from the dedicated work of Heinrich Geissler and Julius Plucker. More so, the information and data of these two gentlemen produced glowing glass tubes in the early 1850s in Germany. As far as neon signs are concerned, they were introduced in 1910 by Georges Claude. Furthermore, the very first commercial neon light used glass tubes identical to the early versions crafted in Germany.
This might be enticing yet surprising to many people, but neon is the fifth element by mass in the universe, after helium, hydrogen, carbon, and oxygen. Besides, only 0.0018% of Earth's atmosphere is made up of colourless and odourless gas.
When did the commercial neon sign make a mark?
If you're unaware of the fact, the very first tube contained neon made through a scientific study. Shortly after the sealed tube discovery, Claude produced the first neon lamp at an expo in France in 1910. Talking about Paris, the first ever commercial neon sign was used for a hairdressing outlet. Moving on, one of the motoring companies took two of Claude's neon signs and got them to the US.
Neon signs take over the entire world.
By now, commercial neon signs are making rapid waves. From the Las Vegas Strip and Moulin Rouge to New York's Time Square, you can see neon lights everywhere these days.
In the United Kingdom alone, a lot of companies are choosing commercial neon signs, promoting offers, business slogans, and much more. So, if you are one of the upcoming businesses that need some easy yet effective marketing strategies, get a commercial neon sign for your brand and let it do the talking. You can simply go for happy hour signs and bar signs for hospitality outlets to get the most eyes toward specific spaces.
Whether you're planning a birthday party, a wedding, or a corporate event, Neon Party UK believes all gatherings should be special. That's why we offer cool neon signs, funny neon signs, large neon signs, handmade neon sign, glow neon sign, and custom neon signs in Manchester. Your unique event sign will be created by our talented team of designers.